Confirm Your Calling and Election Study of 2 Peter 1
ESV
3 His (God and Christ's, his, singular) divine power has granted to us all things that pertain to life and godliness,
(the free gifts do not include the coins and the snacks of life)
through the knowledge of him
(the giving is granted by the Father, He is the Giver, only through the knowledge pertaining to Father. This "him" is identified to be the One who calls believers in the following text. Mosts people have no idea who the Father is. As such, they are not partaking in the divine power of God, living the godly life and walking righteously with Christ.)
fwho called us to his own glory and excellence,
44 by which he has granted to us his precious and very great promises, so that through them you may become gpartakers of the divine nature,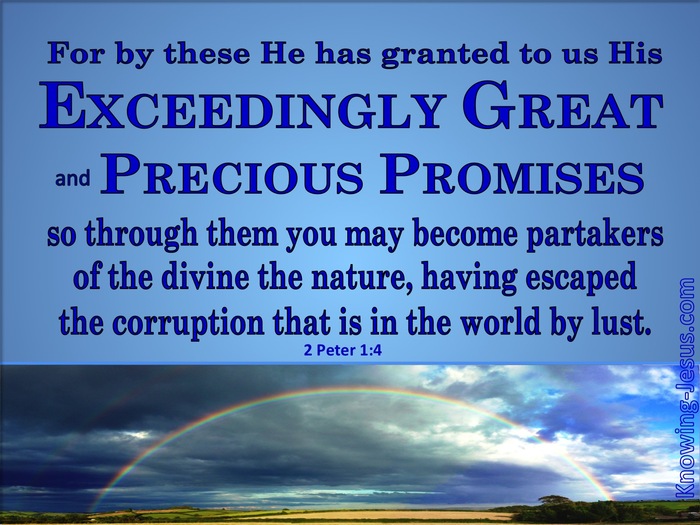 (by God's glory and all things excellence, not by our own strife, pretense or doing and wits, nor boastings as a Christian, pastor or professor, or an affiliation or denomination, we become partakers of His divine nature.)

hhaving escaped from the corruption that is in the world because of sinful desire.
(Escape as in the Bnei in 1,313 BC, escaping for dear life, in the Exodus ahead of the bloodthirsty pursuit of Pharoah's armies riding on horses and chariots, flailing swords and spears to kill the Israelite slaves.
The corruption of the world will harpazo (snatch away) the believer who wants to go back with open arms, and then make a meal of them for sacrifice to the powers and dominions of the last days.
That believer who wants to go back to Egypt is filled with sinful desire. He must cease and desist his desires. Repent.