The fate of those who do not overcome the critique of the Moshiach, they that hear Him call to repentance but will refuse to, will be in the hands of the fallen angels. Those in this descript who want to be raptured, shall be "snatched away" as the word harpazo" suggests. They shall not be accepted by the Savior as workers of iniquity.
If the top scientists of the world are working for their paychecks to open a breach in the time and space continuum, to open Physics to a new dimension as they are trying their hardest at the CERN campus in beautiful Switzerland, then we shall expect that once a door is open, things may go two ways.
At the fifth trumpet, the key to the abyss shall be passed from one angel to an angel that had previously fallen to the earth. He will use that key to open the abyss and let loose an host of locusts to the earth.
Comics Come Alive!
Sometimes science imitates life. The best plots are hidden under wraps in broad daylight when no one shall suspect any foul play, or it is so unbelievable and fantastic that even if you blow it open, people will disbelieve you. Some really think all the Marvel Studio projects are entertainment. What if they are seeds that are sown for ideas in grooming a box office audience into accepting half-humans?
Is it true that many kids as well as people who are kids at heart want to be "like" these half humans? Almost all of the DC Comic characters and the Marvel Comic characters are modeled after the hybrid angels with humans.
To those who attend the Comicons, who don capes to attend with full makeup, they wish that they have the power that their idols wield and many wish that they can just lift up and lift off as their comic book and movie heroes.
Where am I going with this?
There will come a fake and staged event where the public will be told that they can visit the other-worldly places. Exactly how, I am not part of the Illuminati so I cannot predict it and likewise for my own safety. But in the next few years, no doubt we will be talking about it.
Rife Deception
The Lord warns in Matthew 24 from Mount Olivet that a certain type of people will be "gathered" by the eagles in the end times, in answering to the Eleven their question. The first warning that He gave them was against those that deceive. Deception is rife today.
See ye not all these things? verily I say unto you, There shall not be left here one stone upon another, that shall not be thrown down.
3And as he sat upon the mount of Olives, the disciples came unto him privately, saying, Tell us, when shall these things be? and what shall be the sign of thy coming, and of the end of the world? 4And Jesus answered and said unto them,
Take heed that no man deceive you. 5For many shall come in my name, saying, I am Christ; and shall deceive many.
He warned again:
11And many false prophets shall rise, and shall deceive many.
The further down the verses, the more we shall identify with the current times that we live in, facing the challenges that come to steal the jewels that we have been given by the King. We all need to recognize the jewels and the treasure we have been made stewards of. The adversary wants to steal them from the believers. He will succeed with some, from those who do not guard their hearts and let in the angels and the shining things. False prophets are only inroads to the things that will eventually snatch away the livelihood of these people.
Toward the end of the Olivet Discourse, the angels enter the scene.
24For there shall arise false Christs, and false prophets, and shall shew great signs and wonders; insomuch that, if it were possible, they shall deceive the very elect.
25Behold, I have told you before.
To those that will end up as being deceived in the last generation, something unprecedented will happen to them that had never been seen before. As such we in this generation shall no frame of reference to learn from, except from the Words of the Lord.
To the millions of science fiction fans worldwide, any pretense of individuals who appear to look like their heroes But Eashoa says that He has already told us. There is no mystery here. For analogy, if you are told the six numbers of tomorrow's lottery, then when the six balls are drawn, you will be fine.
And I heed His words because I love Him.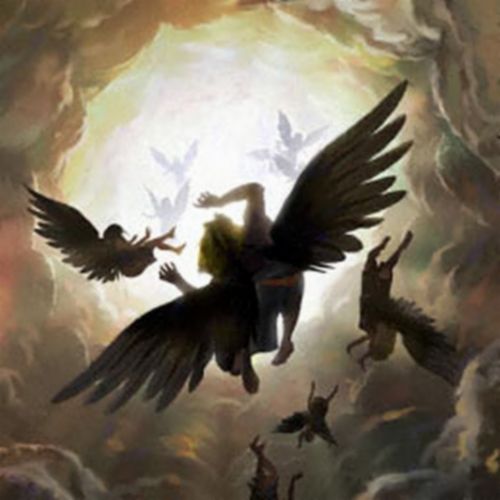 Eagles Shall Gather

28Wherever there is a carcass, there the eagles will gather.

Eagles are typifying the angels, in this case, the fallen angels. Long before mankind entered into creation, angels were existent. In Ezekiel and in Revelation, we learned from revelation of the heavenly things that the looks of some angels adopt the face of an eagle.
Ezekiel 10 14And every one had four faces: the first face was the face of a cherub, and the second face was the face of a man, and the third the face of a lion, and the fourth the face of an eagle.
Unclean Stature
The carcass is unclean by the Torah in V'Yiqara. In Revelation 3, those who soiled their garments are called "dead" in Moshiach by the Lord. They have a "reputation" of being alive but inside their inner man is dead for lack of a relationship with Him. He sees all the works that they do but they are not walking in a worthy manner.
1And unto the angel of the church in Sardis write; These things saith he that hath the seven Spirits of God, and the seven stars; I know thy works, that thou hast a name that thou livest, and art dead.

4Thou hast a few names even in Sardis which have not defiled their garments; and they shall walk with me in white: for they are worthy.
5He that overcometh, the same shall be clothed in white raiment; and I will not blot out his name out of the book of life, but I will confess his name before my Father, and before his angels.

A person is deemed unclean when his sinful nature is still attached to him without the washing of the blood of the Lamb. Repentance is an act where we take our transgression in complete honesty to the Lord for pardon in humility.
V'Yiqara 5
1And if a soul sin, and hear the voice of swearing, and is a witness, whether he hath seen or known of it; if he do not utter it, then he shall bear his iniquity.
2Or if a soul touch any unclean thing, whether it be a carcase of an unclean beast, or a carcase of unclean cattle, or the carcase of unclean creeping things, and if it be hidden from him; he also shall be unclean, and guilty.

3Or if he touch the uncleanness of man, whatsoever uncleanness it be that a man shall be defiled withal, and it be hid from him; when he knoweth of it, then he shall be guilty.
4Or if a soul swear, pronouncing with his lips to do evil, or to do good, whatsoever it be that a man shall pronounce with an oath, and it be hid from him; when he knoweth of it, then he shall be guilty in one of these.
5And it shall be, when he shall be guilty in one of these things, that he shall confess that he hath sinned in that thing:
For as long as he does not confess all these things, he shall remain unclean to the Lord.
And the hand of protection in the last hour will depart from him. The fallen angels will see him in their radar and he shall be prey to them.
We shall do as the Word of Elohiym has instructed us to live a long life. Amein.